We only sell MonoClean as a concentrate. We don't believe in paying shippers to move water around the country. The standard dilution is 15:1.
Even at standard dilution you will still have a concentrated cleaner. A little bit goes a long ways.
Although MonoClean can be mixed with potable tap water there's no way of knowing exactly what's in the water. For the best results we recommend mixing with distilled or reverse osmosis water.
Order online through
PayPal
8 oz. in

4 2oz. bottles

$10.50 + ship
1 gallon $159.95 + ship
5 gallon pail $749.95 + ship
Quick Comment or Question Form
If you have any comments about our site,
or any questions about MonoClean
please use this form to contact us
and we'll get an answer back as soon as possible.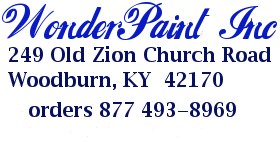 <--- Click to visit WonderChem